DoubleStar Awarded 2022 Best Wellness Employer
March 21, 2022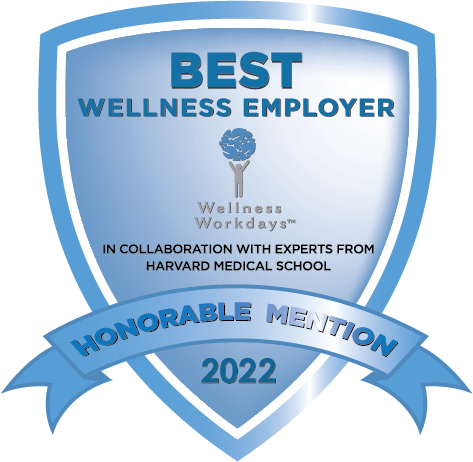 DoubleStar, Inc., the country's leading consulting firm focused on delivering talent acquisition solutions to employers in diverse industries, is honored to announce today that it has been awarded Honorable Mention, Best Wellness Employer from Wellness Workdays, Inc. – a Harvard University sponsored research program. The certification recognizes the outstanding achievements of businesses and organizations committed to creating best-in-class corporate wellness programs that promote a ​culture of wellbeing to engage employees.
"We are very proud to be recognized for the fourth year in a row as a 'Best Wellness Employer' by Wellness Workdays for our focus on creating programs to improve the wellbeing and wellness of our employees," says Barbara Herbein, Managing Director, Operations. "Over the past year, we continued to offer a variety of exercise and mindfulness sessions—all in a virtual format, which provided the opportunity for our entire remote workforce to participate. We are very fortunate to work with HealthEase, our wellness program partner for the past five years and look forward to further enhancing our wellness program to meet our employees' wellness needs."
Wellness Workdays utilizes its proprietary, four-step wellness process to create corporate wellness and nutritional programs that will promote employee health and morale, increase productivity, and lower organization's health care costs. You can find out more at wellnessworkdays.com and can also find them on Facebook, Instagram, Twitter and LinkedIn.